Vacuum Filter Belts
Specialty Belting
Proven Performance in Any Dewatering Processes
Vacuum filter belts from LEGG are specifically designed to separate liquids and solids on horizontal belt filter systems. These belts support the filter cloth, the filter cake and the filtrate within integrated skirts or with additional curbing. The filtrate is removed by vacuum through the molded grooves in the top cover and the drainage holes in the center of the belt.
Fabric Free Zone
In most cases the textile carcass of the belt must be protected from the filtered media. LEGG offers filter belts with a textile free drainage zone. The textile carcass is completely embedded in rubber and separated from both the drainage holes and the belt edges, thus protecting the carcass from both chemical and thermal degradation.
Bottom Guide
Depending on the filter design, the transport belt often requires either a single guide or multiple guides on the bottom of the belt to assist in tracking and to keep the drainage holes centered over the vacuum box. Drainage holes run through the transport belt and bottom guide allowing access to the collection duct.
Skirts/Curbing
Integrated skirts hold the filter cake on top of the filter blanket and transport belt. The addition of curbing can increase capacity and eliminate spillage. Curbing type and height is determined for each specific application.
Belt Constructions
Legg offers a variety of filter belt widths and constructions. Starting with a construction 24 inches wide with a single bottom guide, to a construction 60 inches wide with five bottom guides, Legg offers a wide range of filter belt designs. Each Legg filter belt is tailor made for your specific model of horizontal vacuum filter.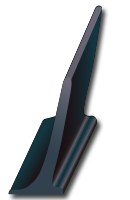 Standard curbing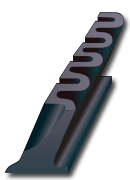 Corregated curbing
Properties
1.

Cover Compound
Good chemical resistance
High temperature resistance
2.

Molded transverse groove surface
Smooth surface
Perfect pitch and dimensions of grooves and lands
3.

Bottom guide
Single and multiple guide strip locations available
4.

100% polyester carcass
High-strength
Low-elongation
Laterally stable
5.

Fabric free drainage zone
Same physical properties as rubber covers
Punching or drilling of center holes does not expose fabric carcass
6.

Full rubber edge
Good lateral stability when guide pulleys are used
7.

Un-grooved edge zone
Suitable for cold bonding or vulcanizing rubber curbing onto the belt
8.

Upward folding skirting
Edge zone can be folded up to desired containment height
No need to attach additional profiles
Without curbing, required drive and tail pulley diameters are reduced
9.

Smooth and seamless transition between base belt surface and side curbing
Smooth and straight alignment of the filter cloth
Minimal air stream leakage between belt and filter cloth
MORE INFORMATION